Water Heating is Our History and Our Future
Our company was founded in 1924 when Dr. Theodor Stiebel inveneted his simple immersion water heaters. It revolutionized water heating and increased personal comfort for the everyday person. Today, over 90 years later, Stiebel Eltron is still a world leader. When the goal is comfort, reliability, and energy efficiency, Stiebel Eltron's industry-leading products are simply the best choice for your home or business. We manufacture several different types of water heaters. All are energy efficient and built with the engineering and manufacturing excellence that has come to define the Stiebel Eltron brand. Continue reading below to learn more about each type of water heater we offer.
Tankless Electric Water Heaters
Innovative water heating products have always been a company focus. Stiebel Eltron pioneered basic tankless technology almost 90 years ago and has been refining it ever since. Today we are the world's leading tankless manufacturer, with over 20 million units sold worldwide.
Tankless, also called "on-demand", or "instantaneous" water heaters differ from tank water heaters. Unlike a tank that always keeps a large amount of water stored at full temperature, a tankless water heater is inactive until there is a demand for hot water. Once the unit senses there is water flowing through it, it activates its heating elements to quickly get the water up to the desired temperature. This demand could be from a sink, shower, dishwasher or washing machine, for example. Tankless electric water heaters offer major energy savings, are compact and can be installed nearly anywhere plumbing allows.
Whole House Tankless
There are two main categories of tankless water heaters. The first are whole house models. These powerful units, like our Tempra® series are designed to provide hot water to any of a household's major fixtures, including showers, tubs, sinks and appliances.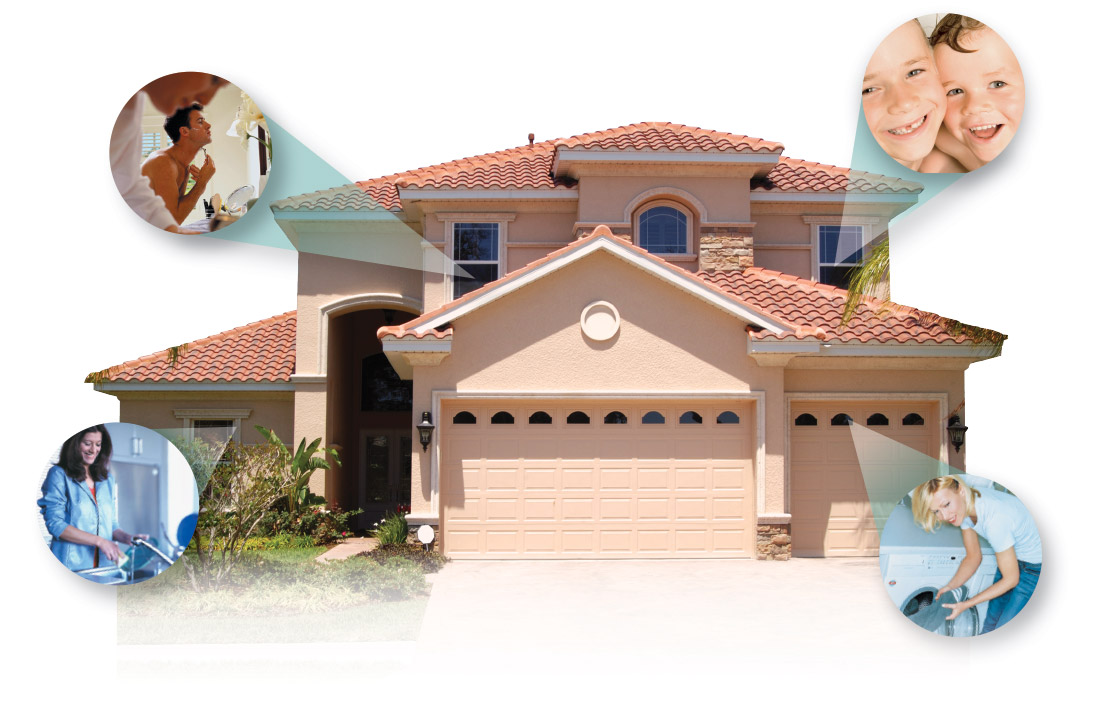 Sizing a tankless water heater is very important. Several factors are involved in choosing the right tankless water heater for your application. You must know how many fixtures you are looking to supply hot water to simultaneously. The colder the climate you live in, the more powerful unit you will need. For example, ground water temperatures in northern Minnesota are much colder than they are in southern Florida. To get the same job done, a person buying a tankless water heater for their Minnesota home is going to need a much more powerful unit than a person in southern Florida would need. Our sizing guides go in to more detail about the sizing process. We're happy to help with sizing.
Point-of-Use Tankless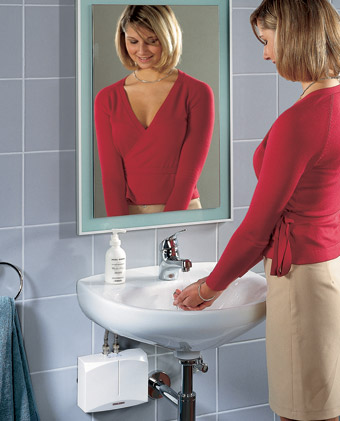 Point-of-use tankless water heaters are smaller in size and less powerful than whole house models. Our Mini™ Point-of-Use Tankless Electric Water Heaters are designed to provide warm water for handwashing to a single sink. DHC Single Sink Tankless Electric Water Heaters offer more powerful models that can also accommodate higher-flow fixtures like utility or janitor's sinks. DHC-E Point-of-Use Tankless Electric Water Heaters feature sophisticated electronic controls that allow the unit to provide hot water to multiple handwashing sinks, higher flow rate sinks, or in some instances, low-flow showers.
Feel free to watch the short informative video below that describes the features and benefits of tankless electric water heaters.
Point-of-Use Mini-Tank
Another versatile option for getting hot water to a sink or several sinks is to install an SHC Mini-Tank. SHC units store small amounts of hot water, either 2.5 or 4 gallons. Installation is simple because the unit has a 120 V plug and does not need to be hard wired. The SHC Mini-tank frees up precious space while providing plenty of hot water for hand washing or kitchen type applications.
Why store 30 or more gallons of hot water when 4 gallons or even 2.5 gallons are sufficient for the job?
Heat Pump Water Heaters
Feel free to watch the short informative video below that describes the features & benefits of Accelera® heat pump water heaters.
Solar Thermal Hot Water Systems & Individual Components
We have been engineering and manufacturing solar thermal hot water systems for over 40 years. Our combination of experience and excellence means that today's solar thermal hot water systems are more efficient and reliable than ever. We manufacture one of the top-ten SRCC rated solar collectors; and have a full line of tanks, pump stations, and accessories to complete any installation.
Domestic Hot Water Tanks for Solar, Geothermal or Hydronic Applications
Stiebel Eltron's line of well-insulated high quality storage tanks come in single or dual heat exchanger models, and also in single heat exchanger models with an integral electric backup element. The combination of a variety of sizes and configurations means that Stiebel Eltron tanks can be used for any number of solar, geothermal, or other indirect hydronic projects.