The Best Electric Water Heating System
Tempra® is manufactured by Stiebel Eltron, a pioneer and leader in tankless water heating technology for almost 90 years. Advanced technology, impressive energy-saving performance, and a compact design are only a few of the reasons to consider a Tempra® hot water system.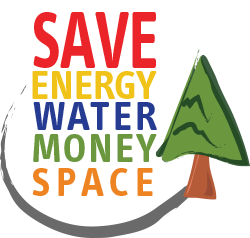 Saves Energy and Reduces Your Electric Bills
Changing to a Tempra® tankless system means there are no standby losses that tank-type water heaters are subject to. This results in savings of at least 15–20% in comparison with an electric tank water heater.
---
Tempra Advanced Flow Control™
Tempra Advanced Flow Control™ was invented by Stiebel Eltron. No other manufacturer of tankless electric water heaters has anything like it.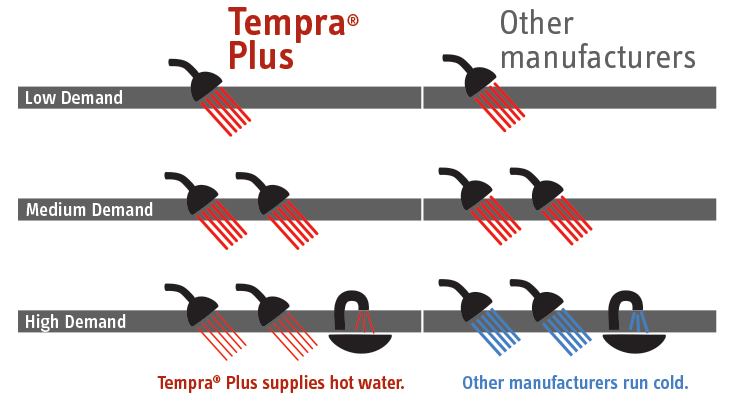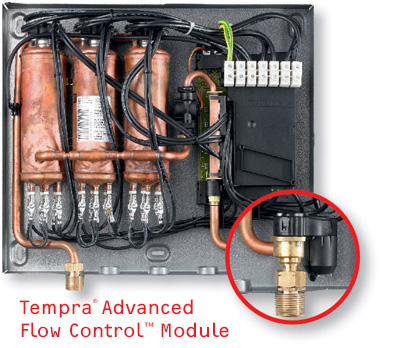 Tempra Advanced Flow Control™ is exclusive to our Tempra® Plus models. If the demand asked of a Tempra® Plus is greater than the unit can handle, Tempra Advanced Flow Control™ works by slightly reducing the flow of water. Unlike other manunfacturers that deliver colder water than the set point, a Tempra® Plus automatically delivers slightly less water, but at the correct temperature. No more cold water suprises!
---
Constant Temperature Output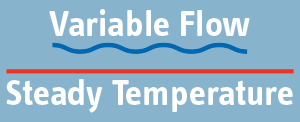 While only Tempra® Plus has Advanced Temperature Control™, every Tempra® and Tempra® Plus has smart microprocessor technology that ensures a steady output temperature even if flow rates vary up or down. Tankless electric water heaters from other manufacturers don't maintain a steady temperature if the incoming flow varies. A Tempra® always does. Our exclusive Electronic Temperature Control allows setting the knob on the front cover to the water temperature needed and getting that temperature every time a hot water tap is opened.
Unlimited Supply of Hot Water
Because a Tempra® heats water only as it is used, and for as long as it is needed, there is an endless supply of hot water. Nobody runs out of hot water in the shower, even if the showers run extra-long.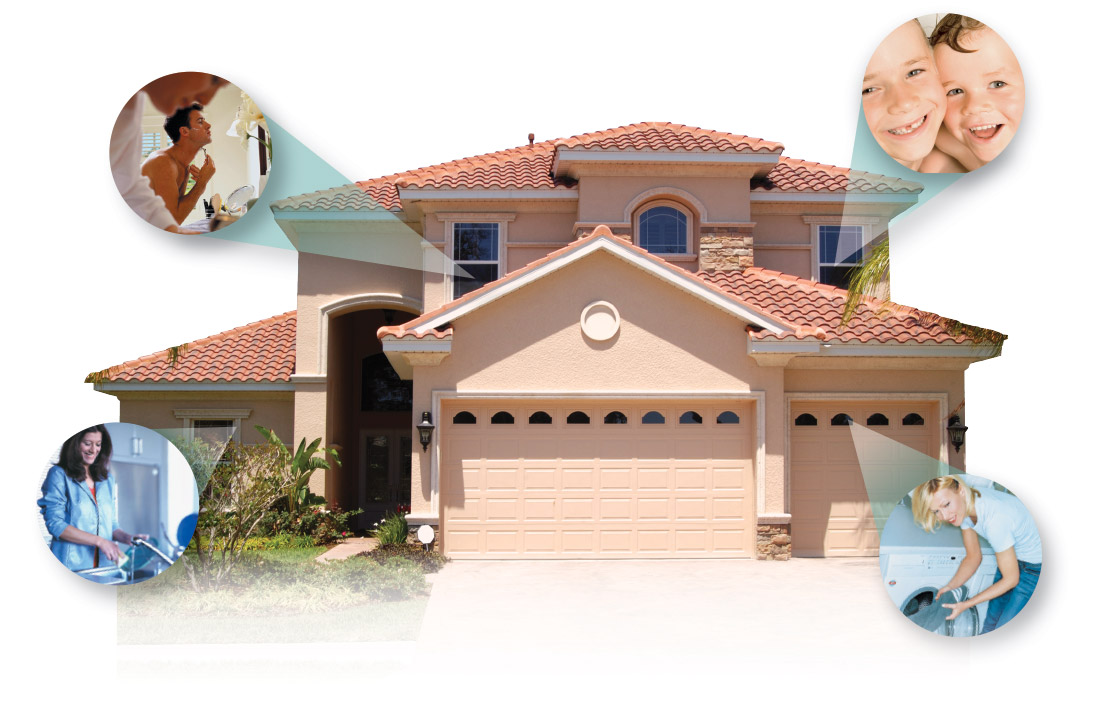 Easy to Size for Every Home - Find the Right Size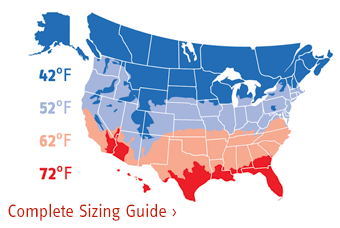 Hot water needs vary from home to home. Stiebel Eltron's full line of Tempra® tankless water heaters offers a variety of choices to meet all requirements.
The correct size Tempra® largely depends on the temperature of the ground water and the number of bathrooms in a house. It's easy to determine which Tempra® model best satisfies a household's needs. Click the map for the complete Sizing Guide.
If there are high flow showers, or another out-of-the-ordinary situation, please call or email for advice. Stiebel Eltron service representatives provide assistance and make recommendations on sizing, or any other matter concerning our water heaters, to both homeowners and professional installers.
Sleek Design Saves Space
A Tempra® from Stiebel Eltron completely replaces a conventional tank heater, yet takes up considerably less space, saving valuable living space and providing endless hot water on demand.

Easy to Install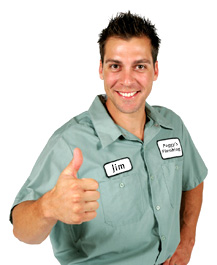 Large and bulky hot water tanks are usually placed in a basement or utility room. Because the tank may not be close to where hot water is used, there is a wait for hot water. A Tempra's compact design can be installed close to the hot water taps. When this can be done, in new construction for instance, the wait for hot water becomes as short as possible. Even in a retrofit, where it might not be possible to place a Tempra® closer to the hot water draw-off points, its considerably smaller size has many advantages.
No Venting Required
Tempra® tankless water heaters are electric and require no venting. This allows for more flexibility when determining the best place for installation.
Seismic Proof Construction
Because a Tempra® is a tankless water heating system, it is not subject to seismic building code. There is no need for the preventative construction required with a tank water heater.
Maximum Output Temperature Limit
Tempra® Plus tankless water heaters can be set to limit the maximum hot water temperature to 109°F. This can be important in some installations to prevent the possibility of scalding.
Open the Cover
We have done our homework. As an international leader in the tankless electric water heating industry, Stiebel Eltron is proud to have pioneered this technology. The company's German engineering and manufacturing tradition of excellence means that you can depend on its performance for many years to come.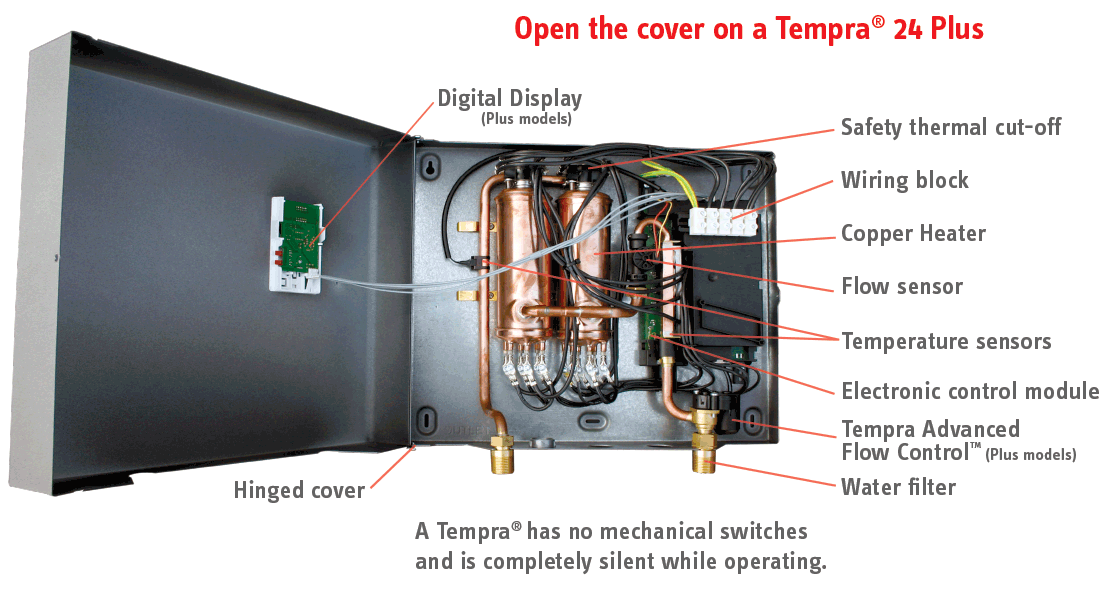 We've Been Introducing Advanced Technology for 90 Years
Stiebel Eltron is proud to have developed tankless electric water heating technology almost 90 years ago. As the international leader, we continue to be the pioneer in the industry.
Our engineering and manufacturing tradition of excellence means that you can depend on the performance and reliability of our products for many years to come.
Superior, Reliable & Quiet Performance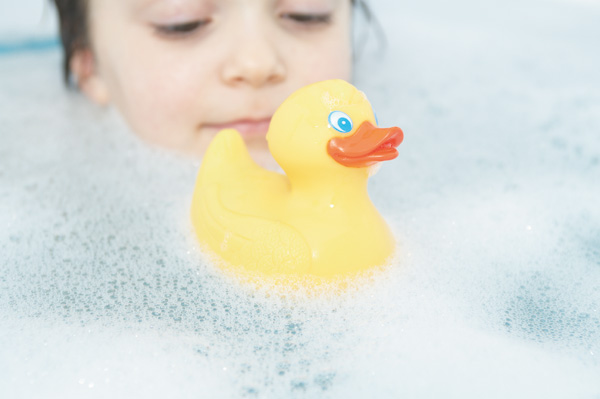 Each Tempra® has several temperature and flow sensors that feed their readings into the unit's proprietary microprocessor control. A Tempra® continually monitors incoming water temperature and the water temperature it produces. It engages its heating elements in stages to achieve the water temperature you desire as efficiently as possible.
A Tempra® also does not have any mechanical switches. It is completely silent while operating.