Save money, save trees, and promote good hygiene with the contemporary-styled hand dryers from Stiebel Eltron.
Touchless Operation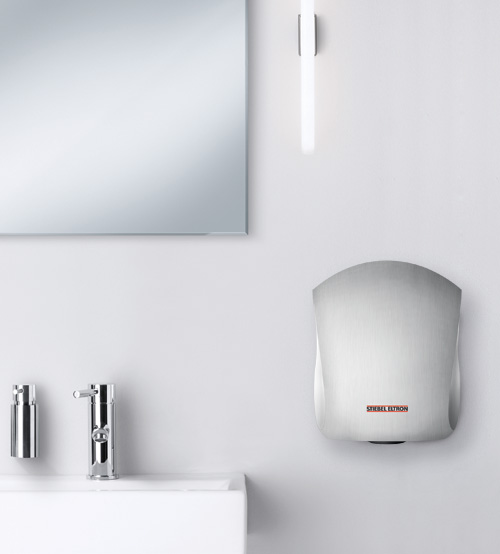 An infrared proximity sensor turns the unit on and off automatically. Place your hands underneath the unit, and the dryer is activated. Take your hands away, and the dryer stops running, minimizing the use of electricity compared to a unit that runs for a pre-determined time. This saves energy and reduces operating costs!
Fast Drying
A careful selection of air temperature and air speed dries hands quickly every time! Depending upon individual preferences, drying time is within 15 seconds for an Ultronic™ model.
Elegant Design
Often described as sophisticated, the sleek European designs complement any restroom environment. The contemporary rounded housing prevents objects from being placed on the unit and damaging its surface.
Rugged Construction
Ultronic™ units are available in 120 Volt and 208/240 Volt models. All Ultronic™ models all feature a cast aluminum housings availabe in two color choices: Alpine White or Stainless Steel. Either of the attractive finishes complements any washroom environment.
Available Finishes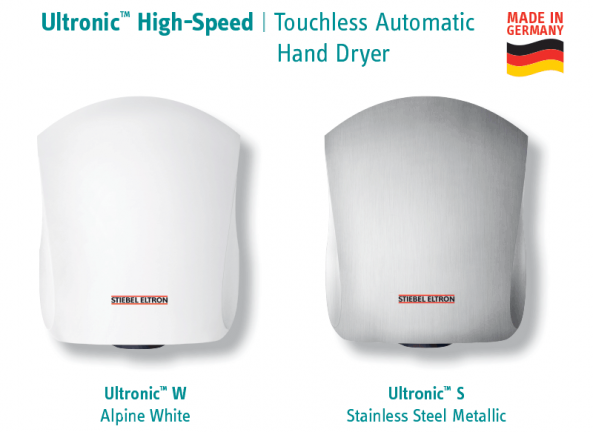 Quiet, Trouble Free Operation
With a noise level of only 82 dB, Ultronic™ is remarkably quiet for a high-speed hand dryer at only 82 dB. Ultronic™ is backed by an industry-leading five-year warranty.
Easy installation
Installation is easy. The cover is simple to remove. Once it is removed, the electric wire is threaded through the knock-out in the back of the unit. The unit is mounted to the wall with four fasteners and the electric wire is connected to the wiring block. The unit is ready for operation once the cover is back in place.
Make an environmentally sound decision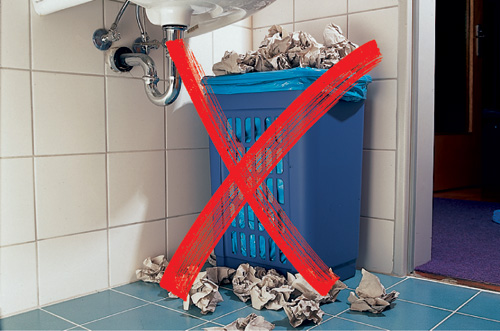 Make an environmentally sound decision to save trees and energy, while putting an end to the paper towel mess in your washrooms.
Hand dryers make good business sense and pay for themselves in a few months. Eliminate the cost of purchasing and restocking paper towels and reduce waste removal costs.
Built by Stiebel Eltron, a world leading manufacturer of technically superior products, Ultronic™ touchless automatic hand dryers embody a proud tradition of quality and workmanship to deliver maximum value, efficiency, and reliability.
Touchless Hand Dryers Save Money!