More powerful
The DHC-E Classic is a powerful, flexible, point-of-use water heating solution in an affordable, compact package. There are two models, the DHC-E 12-2 Classic with 12 kW output and the DHC-E 8/10-2 Classic. Either is great for a kitchen sink at the end of a long pipe run, or for multiple low-flow sinks in a commercial application.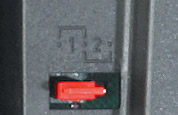 Flexible & switchable output
The DHC-E 8/10 Classic is actually two models in one - it has the added advantage of selectable power output of 7.2 kW (Stage 1) or 9.6 kW (Stage 2) during installation via a jumper.
Easy to Size for Any Point-of-Use or Multi-Point of use Application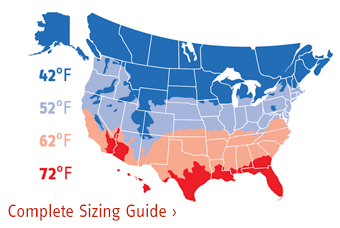 DHC-E Classic can deliver hot water to a single sink, multiple sinks, or in certain conditions, low-flow showerheads. Click the map for the full Sizing Guide.
Call Stiebel Eltron at 800.582.8423 if you have any sizing questions, or if you have any out-of-the-ordinary situation. Stiebel Eltron service representatives can make recommendations on sizing, or provide assistance with our water heaters, to both homeowners and professional installers.
Control temperature simply by setting a dial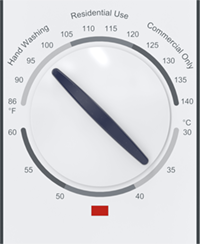 Set the temperature knob on the front cover, and enjoy water between 86–140 °F (30–60 °C). Change the desired temperature at any time. Purchasing a remote selector control is not necessary. Advanced microprocessor technology ensures that the water temperature doesn't deviate from the set point even if flow varies.
Code Compliance Made Easy
The water temperature required by codes can simply be dialed in at the unit. The 100% accuracy of the water temperature is guaranteed by sophisticated electronics. No need to worry about mixing valves that go out of adjustment and wear out. The DHC-E Classic can supply up to 140 °F (60 °C) water when health codes call for it. At the same time, when lower, non-scalding temperatures are needed, the advanced electronics of the DHC-E Classic ensure what you set is what you get.
Simply Plumbing System Design
There is no need for a T & P valve, drain or mixing valve. The design of the hot water plumbing system gets very simple and straight forward due to the advances introduced with the DHC-E Classic.
Sleek Design Fits in Anywhere
Due to its small dimensions and attractive housing the DHC-E Classic can be left unconcealed in many applications.
Seismic-proof Construction
DHC-E Classic is a tankless water heater system, and is thereby not subject to seismic code. There is no need for preventative construction, as required when using a bulky water storage heating system.
No Venting Required
The units are electric and require no venting. This allows for more flexibility in the positioning of the units.
Constant Temperature Output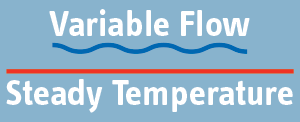 Stiebel Eltron electronically-controlled DHC-E models have our exclusive Electronic Temperature Control. Tankless electric water heaters from other manufacturers don't maintain a steady temperature if the flow varies. But Stiebel Eltron Electronic Temperature Control compensates for fluctuations in the flow rate and the incoming water temperature and maintains a constant water temperature output. Our smart microprocessor technology continually monitors information from the flow sensor and two temperature sensors and micro-adjusts the heating elements. All Stiebel Eltron electronically-controlled models ensure steady output at the set point temperature even if flow rates vary. They deliver consistant comfort — every time — all the time.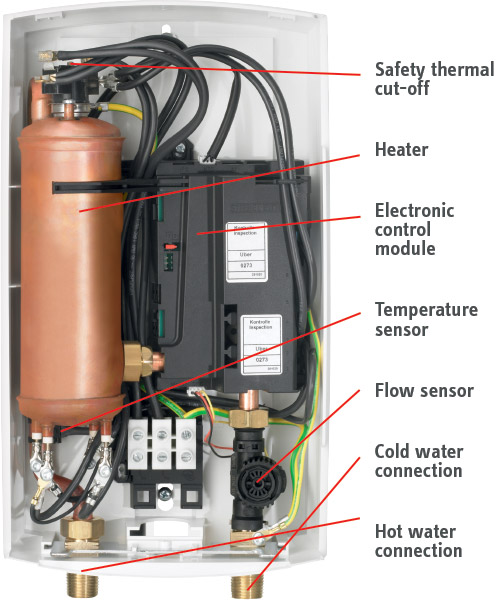 Proprietary Technology
Take the cover off. We have done our homework. As an international leader in the tankless electric water heating industry, Stiebel Eltron is proud to have pioneered this technology.
Superior, Reliable Performance
DHC-E Classic models have a flow sensor and two temperature sensors that feed their readings into the proprietary microprocessor control. Heating elements are engaged in stages, achieving the temperature you desire, with the lowest possible energy usage. Both the input and output water temperature and the flow rate are continually monitored. This smart Electronic Temperature Control microprocessor technology ensures steady output at the set point temperature even if flow rates vary up or down. Tankless electric water heaters from other manufacturers don't maintain a steady temperature if the incoming flow varies.
Superior Engineering in Every Way
DHC-E Classic models are completely silent during operation. In addition, their exclusive design prevents failure from dry-firing.
Best Warranty in the Industry
Stiebel Eltron has an enviable track record of engineering excellence and product quality. The three-year parts warranty is unique in the industry. You can depend on a DHC-E Classic for many years to come.