On-demand for maximum flexibility & efficiency
CE Plus models are electronically-controlled, cold-start models. No energy is used when the unit is idle other than the indicator light. CE Plus models are accurate to ±1.5 °F at low flow rates. They are used for applications where continuous delivery of hot water is necessary on demand. Typical applications include safety showers, boiler replacement, process manufacturing, and cleanup.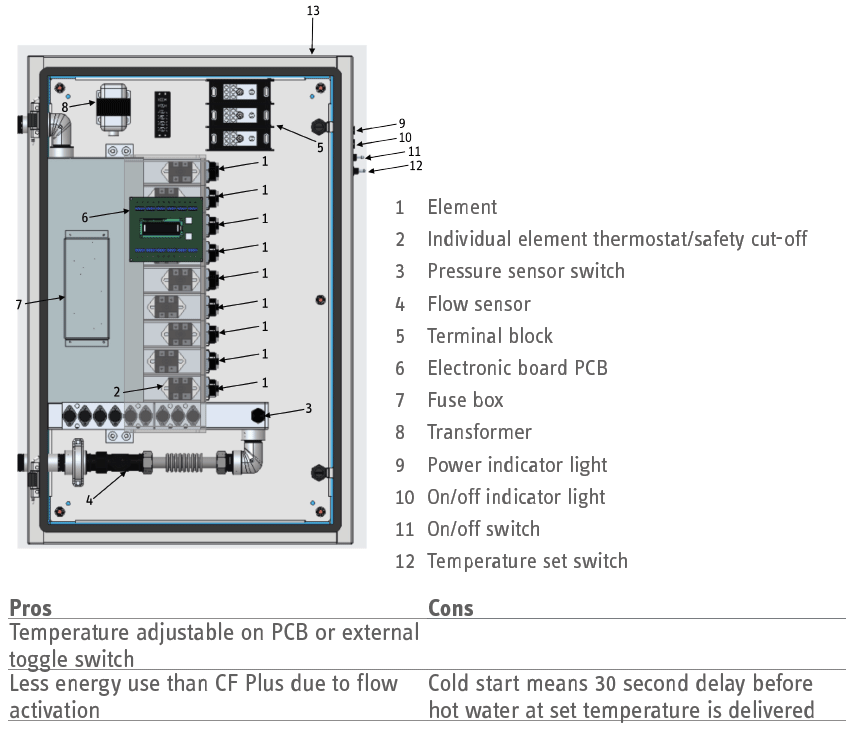 C Series overview
C Series 3-phase electric tankless water heaters are designed to provide hot water for commercial and industrial use. Tankless water heaters do not store hot water as a tank water heater does, but make it on demand as it is needed. There are several major benefits of tankless water heaters over tanks because of this difference.
First, a tankless water heater never runs out of hot water. As long as it is needed, a tankless water heater will make and deliver hot water at the specified set point temperature. Second, tankless water heaters are not storing hot water, and they have no standby heat losses. This results in energy savings on the order of 20% over an electric tank. The exception is hot start tankless models like our CF Plus, but their standby heat loss is minimal when compared to the extensive surface area of a standard tank. And third, tankless water heaters are considerably smaller than a tank, saving space, and are not prone to leakage. Our electric tankless water heaters also do not need venting.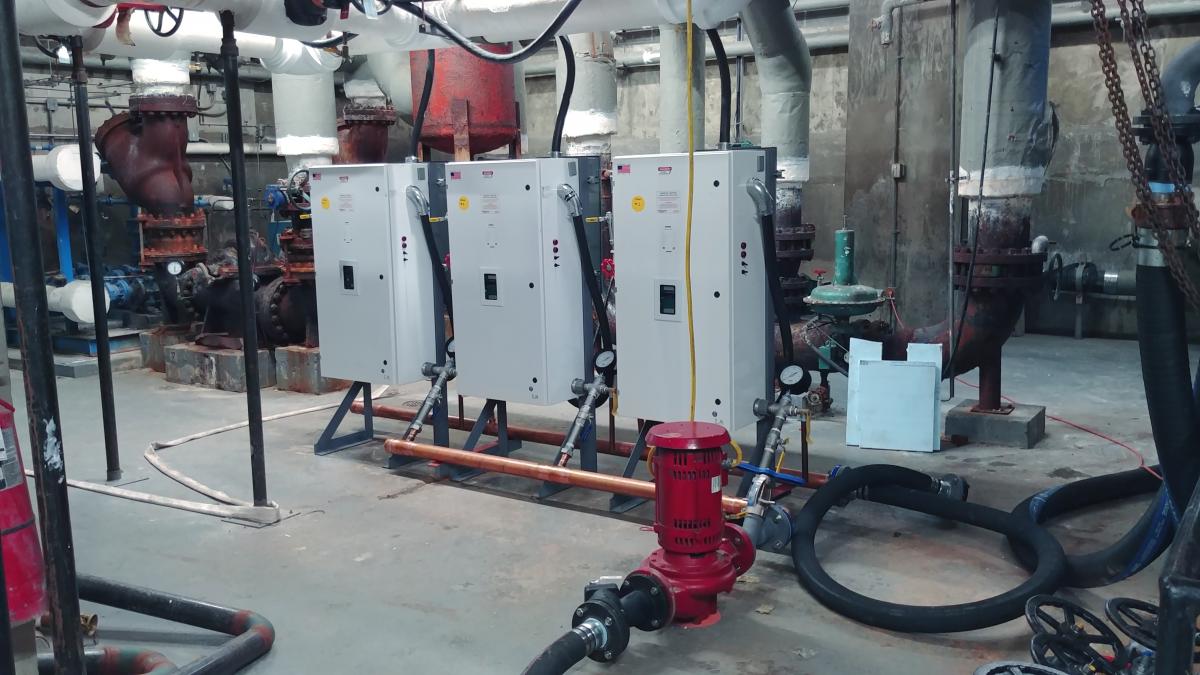 C Series common features
Fabrication & enclosures
 
 All machining, welding, assembly, and testing done in Sarasota, Fla.
 Each unit is tested at full and partial load amp draw to ensure measurement accuracy and proper operation
 Standard NEMA 3 enclosure is hinged and swings to the left for accessible service. All components are intuitively laid out and designed, including element replacement without removing the heat exchanger.
 NEMA 4 and NEMA 4X watertight enclosures available if required
Plumbing
 
 Unique water flow relieves air build-up for increased longevity
 Minimal pressure drop. See charts on website for details
 Heat exchangers and pipe connections are 316L stainless steel
 Inlet and outlet stub piping with ball valves included and pre-installed
 Lead-free brass pressure relief valve and air vent included
 ¾˝, 1˝, & 1 ¼˝ female water connection sizes depending on heating capacity
Electronic control
 
 "3i" is Stiebel Eltron's closed loop control circuit with measurement of flow rate, inlet temperature, and outlet temperature
 The amount of energy needed to meet demand is electronically controlled so only the minimum number of elements necessary to satisfy demand are activated
 All models electronically flow activated using a vortex flow sensor available in 4 sizes, DN 10, 15, 20, 25, for customization to individual application
 Completely pre-wired with only mains power connection needed
 Printed circuit board (PCB), including triac driver, protected by Metal Oxide Varistor (MOV) against high voltage spikes from AC mains power
 Printed circuit board (PCB) optimized to provide safety for triac control
 Triac cooling accomplished with massive aluminum plate for reliability
Safety
 
 Four over-temperature protections
 Latent heat protection though controller software eliminates timer switch
 Each heating element protected individually with dry-mounted, manually resettable temperature/safety cut-off providing greater safety and leak risk reduction than immersed bi-metal thermostat
 Pressure sensor provides dry-fire protection on all models