Tankless water heater accessories from Stiebel Eltron offer protection and ease of maintenance.
Scale TAC-ler Plus

Scale TAC-ler Plus water conditioner is compatible with all tankless and conventional tank-style water heaters. Scale TAC-ler Plus is installed on the cold water inlet of the water heater, where it treats the water entering the water heater. It  will provide protection for flow rates up to 6 gallons per minute.
Hard water mineral scale accumulating on heating elements slowly reduces performance. It affects both heat transfer and water pressure. Preventing mineral scale formation ensures your water heater's optimal performance, increasing service life, and possible preventing premature failure.
If water hardness exceeds 7 grains per gallon (gpg) or 120 mg/l (ppm) hard water treatment should be considered. If hardness exceeds 12 gpg or 200 mg/l (ppm), treatment is strongly recommended. Water heaters with existing mineral scale build-up should be treated with the Flow-Aide de-scaling system to restore original performance. Scale TAC-ler Plus will prevent future mineral build-up.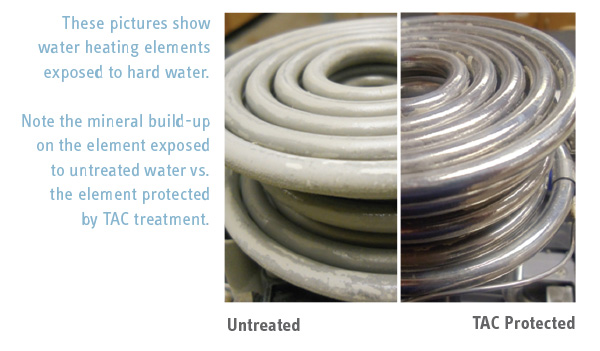 Protects from harmful hard water scale
 Protects manufacturer's warranty coverage
 Protects equipment investment
 Ensures optimal performance and efficiency
 Maintains water pressure and flow rates
 Does not add chemicals to the water
 Does not change the taste, smell, or feel of the water
 Environmentally friendly
 Simple installation
 No daily maintenance
 No salt, backwashing, chemical regeneration, or brine discharge
 Does not remove beneficial minerals
 Ideal for all tankless or tank-type water heaters
 Built-in sediment pre-filter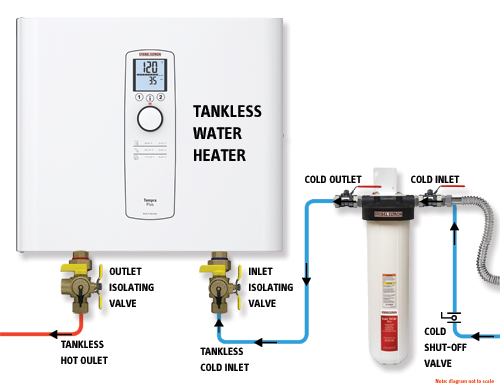 How it works
Scale TAC-ler Plus salt-free water conditioners use a specialized polymeric bead medium that serves as a catalyst for the formation of calcium and magnesium carbonate nano-crystals. Instead of forming hard mineral scale on surfaces, these microscopic crystals of calcium and magnesium carbonate remain suspended in solution and pass through to the drain. This process is called Template Assisted Crystallization, or "TAC." A university study determined that TAC technology was the most effective of all non-salt water conditioners at preventing mineral scale, with reduction levels consistently in excess of 90%. TAC technology passes the German DVGW W512 standard for water treatment.
Flow-aide Descaling Kit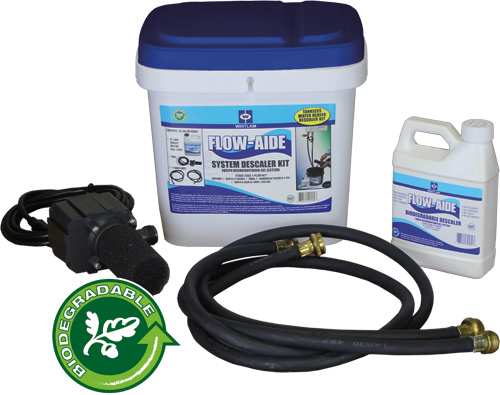 If a tankless water heater has lost performance due to hard water mineral deposits, our Flow-aide tankless descaling kit offers the answer. Featuring a biodegradable descaling solution and submersible pump for easy operation, the Flow-aide descaling kit may also be used as routine preventative maintenance or as part of a complete system with the Scale TACler water conditioner. Flow-Aide fluid is available by the quart as a refill kit.
 Lead-free construction
 ¾″ NPT connections for easy use
Isolation Valve Kit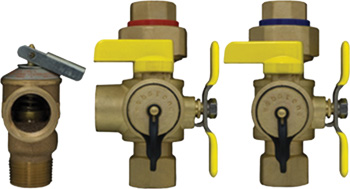 Isolating valves make it easy to service a tankless electric water heater and clean the cold water inlet filter screen. Our kit puts all the components needed in an easy-to-install package. Pressure relief valve is included for use in unique situations but are not required for most tankless water heater installations.
 Lead-free construction
 ¾" NPT connections
 Includes inlet & outlet isolating valves & pressure relief valve