Modern design merges comfort and style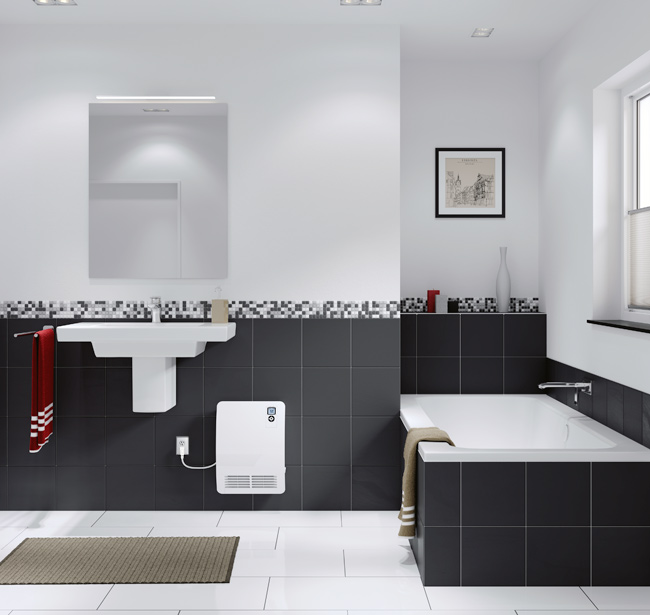 The CK Premium is an elegant surface-mount heater, perfect anywhere quick heat is needed. Designed and made in Germany, this quiet fan heater quickly warms an area or maintains a comfortable temperature. The built-in fan is extremely quiet in normal operation at only 48 dB(A), and has a "silent-mode" with reduced power at only 37 dB(A). The thick aluminum face stays cool to the touch. Perfect for both retrofit and new construction, the European downdraft design heats a space evenly.
Flexible installation options
CK Premium heaters easily replace older flush-mount heaters and are ideal for bathrooms, basements, offices, playrooms, 3-season porches, cabins, campers or RVs, and mobile homes. CK Premium models are not recommended for use with external thermostats. CK Plus and CK Trend models may be wired for a remote line voltage thermostat.
Interactive backlit display with full suite of useful features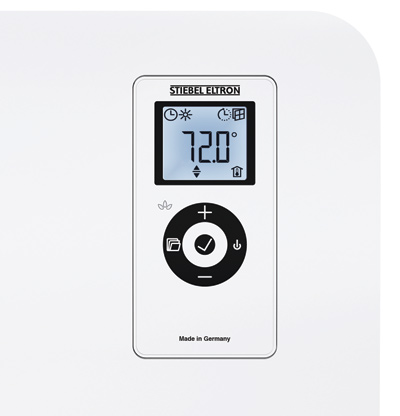 The electronic digital control with illuminated display includes programmable timers, a variable timer for booster heating of up to 120 minutes, open window detection for energy savings, night mode for energy savings, and a child protection mode. A self-learning program in timer mode will pre-heat the room so the desired room temperature is achieved at the programmed time not after.
The CK Premium frost-protection setting will maintain above-freezing temperatures in an appropriately sized space.
CK Premium user interface video tutorials
Note: The positioning of buttons relative to the display screen may differ slightly than shown. All the information shown on the display screen, and how the buttons work are exactly the same.
CK Premium user interface overview
Setting the date and time
In order to use the timer functions of the heater, the date and time need to be set first.
Setting Comfort Mode and Night Mode temperatures
Note: Night Mode is called "Setback mode" in this video. Night/setback Mode is the lower temperature part of a timer heating program. Comfort Mode is the higher temperature daytime part of a timer heating program. You may customize both your desired Comfort Mode (warmer temperature) and Night Mode (cooler temperature) settings. These selected temperatures will then be used when running any of the timer preset programs.
Choosing your heating timer preset program
Using a timer preset like "Pro1" in your home will save money and increase comfort by lowering the heater temperature automatically each night. Preset timer "Pro2" is designed for use in an office. In addition to turning the heater down each night, "Pro2" keeps the heater in Night Mode all weekend to maximize energy savings and avoid heating a space where people aren't present. "Pro3" is a totally user-customizable timer program. You can set the start and stop times for Comfort Mode and Night Mode individually for each day of the week.
Customizing Timer Program 1 (Pro1) and Program 2 (Pro2)
By default, Comfort Mode runs from 8:00 am to 10:00 pm each day. Night mode then runs from 10:00 pm to 8:00 am the next day. These start and stop times are easily changed in "Pro1" and "Pro 2" if desired.
Creating a custom timer program (Pro3)
Timer program "Pro3" allows you to set Comfort and Night Mode start and stop times separately for every day of the week.